Growing up down the street from Denslow Park, Bob Cressotti spent his days playing baseball. There was a lot of talent in those games at Denslow: the Farrs, Misieks, O'Connors, Holmes, Dennis's, Shapiro's,  Aniello's, DiPrato's, and Bob's older brother, John.  
As the youngest of the bunch, Bob (he was "Bobby" to them and later as "the Crow") got a quick education in the game he loved the best – BASEBALL.  When his playing days were over, Bob passed that education on to future generations of athletes as a coach and through his renowned baseball school.
Robert had one of the finest careers of any scholar athlete from Windsor Locks.
He was a member of the 1971 and 1972 Senior League Baseball State Championship teams, the 1972 New England Senior League Championship team, and the 1972 Senior League Eastern Regional Final team.
He led his teams to 4 District 8 Titles, pitched a no hitter in the 1972 State Championship game against Farmington and a 2 hit shut out against Massachusetts for the New England Title.  In the Eastern Regional final game, he pitched 10 innings and left giving up 4 hits and recording 10 strikeouts against Pennsylvania.  Windsor Locks lost 2-1 in 11 innings.
While at WLHS, Robert lettered in soccer and baseball and was a member of the National Honor Society.
Robert was a valuable member of the 1971 State Soccer Championship Team and the '72 and '73 CVC Championship Teams. He played left wing and halfback in soccer, but his first love was baseball.
Robert was a 3 time All Conference selection at first base and pitcher, a 2 time All Area Journal Inquirer selection, and in 1975 was selected to the All State Team. He led his teams to 2 Class L Semi final appearances. His career best batting average was .424, and he finished with 25 career pitching victories. He led the Raiders in batting average, home runs, RBI's, and ERA.
In American Legion Baseball, Robert was a 3 time Zone 8 All Star and still holds records for the highest batting average (.500), Home Runs (7), pitching victories, strikeouts, and ERA. He was selected as a member of the "Team of the 70's" as a pitcher and first baseman.
Robert continued his athletic and academic success at Eastern Connecticut State University. He was a versatile player for the Warriors where he pitched, played first base, and was a designated hitter. He was a gold glove award winner and in 1979 was named captain of the team. His pitching winning percentage at Eastern was .708 and was a fine, consistent hitter. His teams made the NCAA Regional Finals 4 years in a row and were nationally ranked.
He was selected in 1979 to play in the All New England College All Star Game. Robert had professional tryouts with the New York Yankees, Cincinnati Reds, Pittsburg Pirates, Philadelphia Phillies and the Toronto Blue Jays. He  was one of 30 players selected from the East to try out at Yankee Stadium as a pitcher and was invited to spring training by the Toronto Blue Jays as a free agent.
He played 17 years in the Greater Hartford Twilight League. He was an All Star performer for the Vernon Orioles as a pitcher and first baseman. He went on to sponsor and to coach the Enfield Mets and later coached the Vernon Orioles.
Robert has coached high school sports for 25 years. He was the first varsity women's soccer coach at Enfield High School, a position he held for 14 years and was the CCC East League representative for several years. He was an assistant baseball and basketball coach at Enfield High under Enfield's long time coach Robert Bromage, and the varsity baseball coach at Fermi High where 2 of his former players signed pro baseball contracts.  Robert and his wife Marilyn  run the Cressotti Baseball School, offering fundamental baseball and tee ball clinics to the surrounding towns in Northern Connecticut.
Bob conducts coaching seminars, winter/spring hitting and pitching clinics. Not forgetting his roots, he has helped the WLHS Baseball teams conduct preseason pitching and catching practices. Bob had the pleasure of coaching his daughters in high school soccer and now has the pride of watching Jamie and Samantha run the Tee Ball division of his clinics.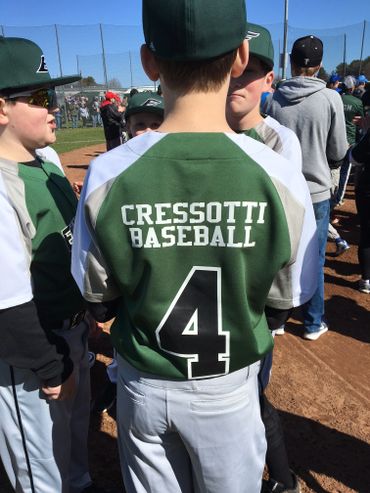 He is very active in Connecticut Special Olympics, Challenger Baseball, and Autism Speaks. His greatest thrill is seeing these special athletes achieve success with all the challenges they face, and it was a DREAM COME TRUE to see his son play baseball. Showing his value as a father and a family man, Bob is dedicated to helping his son with his academic, athletic, and social acceptance.
In 2017, Bob was appointed to the Enfield Town Council.
Robert was a mathematics teacher and assistant athletic director in Enfield where he resides with his wife, Marilyn. In spite of all his athletic accomplishments, his greatest joy is his 4 children- Jamie, Abbie, Samantha, and Bryan and now his 4 grand children- Sage, Eden, Hannah, and Joey.  At his best Bob was a dominating pitcher and a fantastic hitter who succeeded at every level.
In the long line of great baseball players from Windsor Locks few, if any, were better than Bob Cressotti.
Bob was elected Mayor of the Town of Enfield in November of 2021.